Tweet
posted
February 28,2014
By
Hilary Sharp
Last year it was all about owls, chevron stripes and pineapples for homewares and decor. I think we've all had enought of them! So, what's trending for homeweares in 2014?
While I was at Life InStyle Sydney this month, it wasn't just the exhibitions that inspired me. Walking through Sydneys' streets, I was really struck by the design used on the facade of 100 Market Street. Check out the detail in the image below! I have for some time been pondering over the new trends emerging in interior design and homewares and it got me thinking about the reasurgence of the home craft movement - knitting and crotchet to name but a few! I'm hopeless at craft, knit one pearl one excercies always ended in disasters for me! However, I have enormous appreciation how those who can, and also how these crafts can be interpreted and then applied to different mediums of art.
Currently, these traditional crafts are being given a modern twist and they are being reflected in new ways to stunning effect. It's like a modern twist to the arts and craft movement that flourised in Britain in the late 19th century and then spread internationally. The beat on the street is, that cooking shows in the UK are being replaced by knitting and craft shows, is this the start of a new design craze?
The photo below is the facade of 100 Market St Sydney, refurbished by John Wardle Architechts in 2010, and the detail I show here is of the rope wall designed by Dani Marti. They drew their inspiration by the idea of stitiching, and metaphorically in terms of how this building stitches the prcint together.
Above Close up detail of 100 Market Street, Sydney Facade
Several designers I've come accross have applied this knoting technique to different furnitue pieces. The main picture of this blog shows work by German Designer Sacha Felova of Kumuko and her stunning knitted poufs. Below, one of my favourites, knitted poufs by Irish designer Claire-Anne O'Brien
Above images all from Irish-designer-Claire-Anne O'Brien
This statement Not Knot green cushion by icelandic designers Unemi is very wow!
Cushions and throws look stunning with this knitted look. Texture is such an important part of any interior design scheme and these knited throws and cushions work perfectly to achieve this. Throws and Cushions are a really simple little home accessorie that is so versatile.
This look also give a real Scaninavian feel to an interior. Which again is so popular, for obvious reasons! For some interiors inspiration on Scandinavian style and knitted throws and cushions have a look below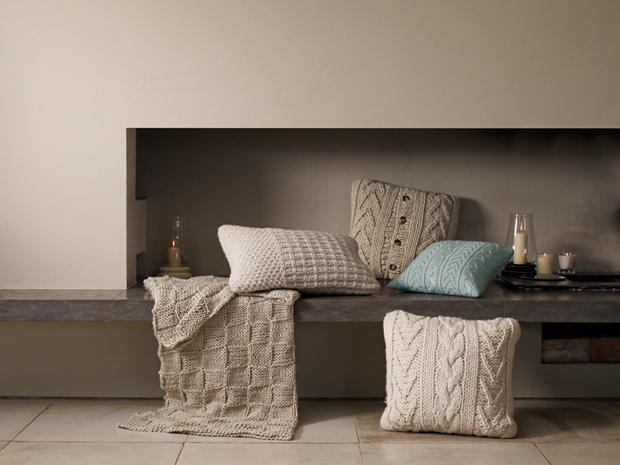 Stunning collection from Laura Ashley Cushions really do add a homely feel, and these seem so personal and cosy